Make a Smart and Secure Voice | Data Investment
Deploy voice and data networks that meet the challenges of your evolving business requirements. Crystal Technologies' experts will guide you through infrastructure requirements, vendor offers, and important design and organizational decisions to help you deploy the best communications infrastructure for your company.
Customized Voice and Data Services

SDN (Software Defined Networking)
Enable quick response to constantly changing business requirements. Aggregate low cost internet bandwidth and high cost private connectivity, to provide business continuity and high speed secure connectivity to the applications that your business needs to succeed. SDN addresses the fact that the static architecture of conventional networks is ill-suited to the dynamic computing and storage needs of today's data centers, campuses, and carrier environments.

"Bring your own device" (BYOD), cloud services, and big data enable your company to compete in the marketplace. These trends require redundant internet connections ranging from wireless and broadband, to dedicated hi-speed Ethernet connectivity. Secure VPNs can also allow your company to use the Internet as a primary or secondary WAN.

Enable employees to conduct business and generate revenue using the secure, private, and quality enabled connectivity provided by MPLS, Ethernet, and Private Lines. Security, compliance, and real-time applications like voice and video often require the characteristics that are best provided by a private WAN architecture.

Deliver a wide variety of communication and collaboration applications and services (e.g. enterprise messaging and presence technology, online meetings, telephony and video conferencing) over an IP network providing high levels of availability (HA) as well as flexibility and scalability for core business tasks.

Reduce costs, increase business continuity, and simplify the network by replacing your legacy PRIs and POTS lines with SIP Trunks that integrate with your digital or IP based PBX system. Depending on your business' specific requirements, SIP trunking can be delivered over your private WAN or the public Internet.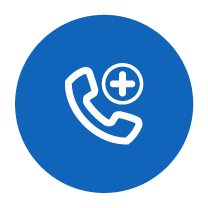 Local and LD Telecom Solutions
Customized solutions combining legacy services and emerging technologies, and backed by solid relationships with LEC, CLEC, UNE-P, and network providers. The most competitive long distance rates and enhanced services available in the industry. We deliver the long distance solutions best suited to your domestic and global voice requirements.