Happy Silver Anniversary
Crystal Technologies Group!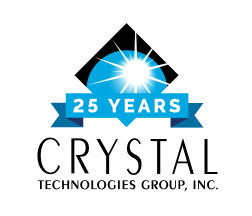 We've had an exciting ride over the past 25 years that has included many successes and occasionally challenging times.  As we reflect on the past and make plans for our future, we know that our Crystal family has been incredibly fortunate.  We owe our success to our clients who trust us and view us as an integral part of their team, our employees who are dedicated in providing an exceptional level of support to our clients, and to our supplier community who works with us to ensure a positive customer experience.  We are incredibly grateful and look forward to continuing our journey together.