At Crystal Technologies, we love providing our customers with the experience, expertise and resources to solve their telecom and cloud challenges.
We also love Christmas.
This year, we've combined the two with our take on a Christmas classic to present you with twelve technology topics to peruse over the holiday period and help you get prepared for the new year.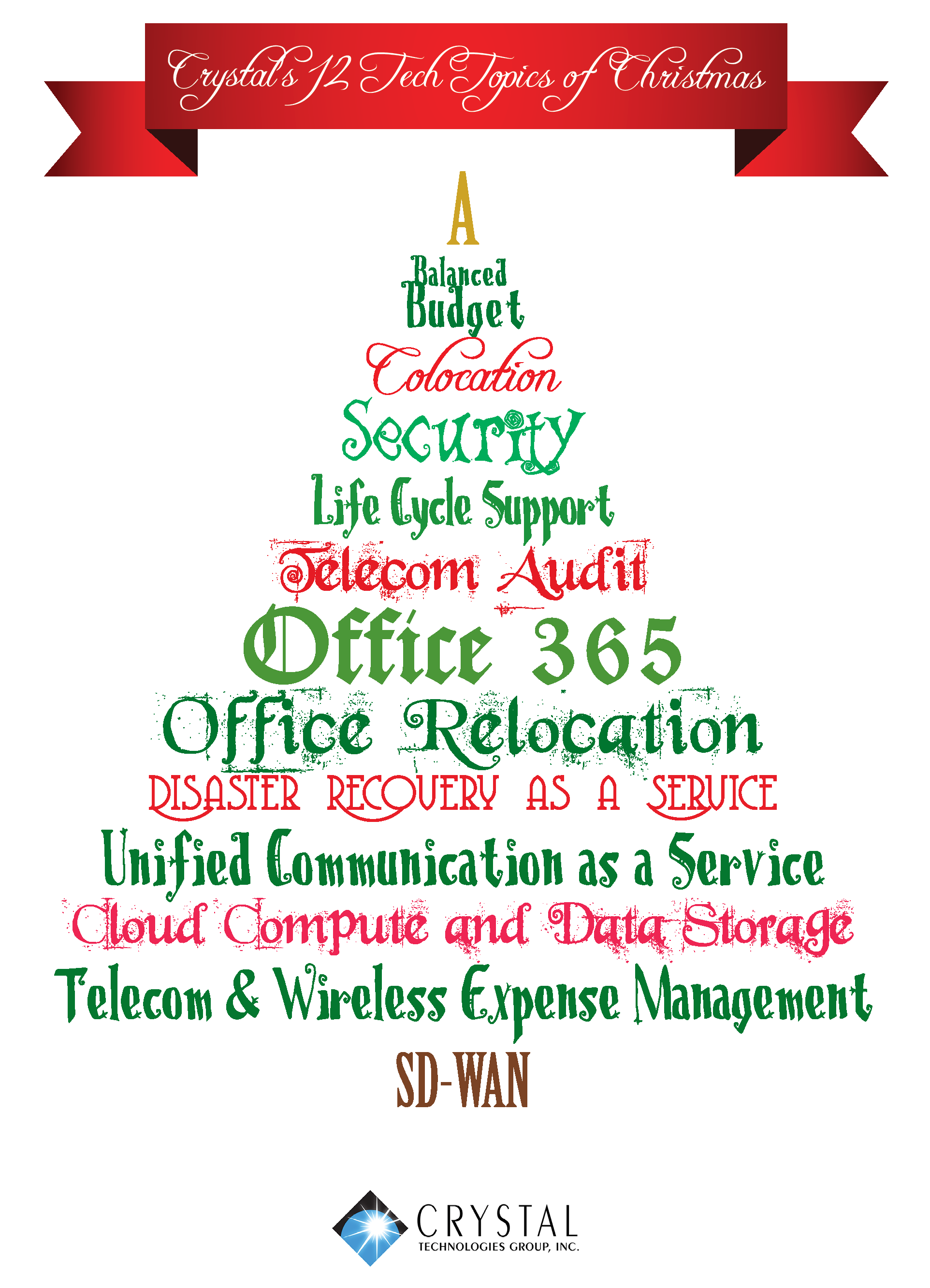 Crystal's 12 Tech Topics of Christmas
Day 1: Balanced Budget
On the first day of Christmas, McKinsey gave to me: Five myths (and realities) about zero-based budgeting.
Balancing your budget is crucial to financial success. In 2018, you may want to (re)think your budgeting process by considering zero-based budgeting, or a repeatable process to review every dollar in the annual budget and manage financial performance on a monthly basis. There are a lot of myths surrounding zero-based budgeting and this article from Mckinsey helps to clear those up. Such a structured process can be very valuable. In fact, the article highlights how one company realized an eleven percent savings in its operating budget within the first four months of using such a program. Check it out here.
Day 2: Colocation
On the second day of Christmas, TierPoint gave to me: Seven tips for choosing a colocation provider.
Colocation providers help your business minimize its investment in on-premises data centers while increasing data center space and connecting your business to the cloud, partners, and other digitally-based service providers. However, selecting the right provider can be especially challenging. How do you pick the right provider to meet your needs? Our friends at TierPoint outline the seven most important factors to consider when answering this very question. Learn more about the seven factors you must keep in mind when selecting a colocation provider.
Day 3: Security
On the third day of Christmas, TechRepublic gave to me: Important tips to reconsider security.
In a TechRepublic article earlier in the year, Matt Asay sat down with Evan Gilman, a former networking and security engineer at PagerDuty, to discuss the concept of Zero Trust networks. Google built the first Zero Trust network whereby they developed a new security architecture devoid of trust in the network. Instead, it ran on the assumption that anyone inside the firewall is just as suspicious as anyone outside requesting access to your network. In it, Gilman covers what Zero Trust means for the average company. Read more.
To dive further into the topic, check out this article by Forrester that covers everything you need to know about the Zero Trust model of information security.
Day 4: Life Cycle Support
On the fourth day of Christmas, Crystal gave to me: Life Cycle Support.
At Crystal, our goal is to help your business drive productive outcomes. Whether you need help in managing your connectivity solutions or deeper expertise to re-evaluate your current efforts, we customize our support in five phases to ensure we meet your needs.
These phases include a strategic needs analysis, project planning, procurement, service delivery, and ongoing account management. Our experts act as your own highly experienced telecom services support team and include an account manager, procurement specialist, technology specialist, repair specialist, and implementation/service delivery specialist. We also have certified project managers to make sure everything goes off without a hitch. Learn more about our life cycle support here.
Day 5: Telecom Audit
On the fifth day of Christmas, Crystal gave to me: Five steps to getting started with a telecom audit.
Start 2018 out right by taking charge of your expenses. A telecom audit will give you insight into your current services, including contract terms, usage, inventory and invoices. A five-step process that takes you through project initiation, discovery, analysis, assessment and recommendations will cover all you need to know to reclaim potential budget busting activities.
Learn more about how to get started with a telecom audit, and the rising costs of enterprise mobility management, in our November edition of Crystal Cares.
Day 6: Office 365
On the sixth day of Christmas, SADA systems gave to me: Anytime, anywhere access to Office 365.
What do you think of when you think about Office 365? Most people think, "that's just Office in the cloud." Well, we're here to tell you that Office 365 is so much more. It adds security, speed, and mobility to your business processes through its combinations with a host of tools. In fact, our friends at SADA systems helped Roland DGA Corporation, the world's number one provider of wide-format inkjet printers for the durable graphics market, with boosting their productivity. SADA Systems supported Roland DGA Corporation with improved uptime and cohesive collaboration using Office 365.
Read more about the case study and learn how your business can benefit from anytime access to Office 365.
Day 7: Office Relocation
On the seventh day of Christmas, Crystal gave to me: Seamless office relocation management.
If you've ever had the pleasure (!) of relocating your entire office, you'll know just how challenging it can be to have a disruption-free start in your new work environment. Fortunately, there are several services you can use to help you relocate efficiently, including Crystal's own office relocation management services.
What makes Crystal's relocation management more efficient? We start with a needs assessment and build your relocation strategy from there. We help you decommission unnecessary equipment and take charge of migrating and procuring your telecom and IT equipment and services. And the best part of all? We stay in touch with your relocation team throughout the process to ensure a hiccup-free experience.
If you're looking for a new space in the new year, get in touch with us for your customized office relocation plan today.
Day 8: DRaaS
On the eighth day of Christmas, EvolveIP gave to me: A comprehensive Disaster Recovery as a Service (DRaaS) checklist.
Our DRaaS partner EvolveIP has shared a great resource for executives to re-evaluate their current disaster avoidance plans and protect corporate data. The checklist covers the basics of DRaas, including whether your business has established a Disaster Recovery team. It also outlines key areas for risk assessment and data center preparation. This checklist considers key factors related to your telephone and call center communication systems. Access the full checklist here.
Day 9: UCaaS
On the ninth day of Christmas, Crystal gave to me: Everything I need to know about choosing the right Unified Communications as a Service (UCaaS) provider.
As the popularity of UCaaS continues to rise, it's important to ensure that you're embracing the technology to suit your needs — but how do you do that when all the vendors appear to look the same? Asking the right questions can help you appropriately understand your UCaaS options.
Our article, "How to Choose the Right UCaaS Provider for your Organization," includes a detailed matrix to help you objectively assess what decision criteria is important to your team against the strengths of a potential provider. Get started with choosing the right UCaaS provider for your needs.
Day 10: Cloud Compute and Data Storage
On the tenth day of Christmas, Computer Business Review gave to me: The growing importance of cloud computing and data storage.
Computer Business Review highlights how financial technology companies have overcome their initial hesitance related to cloud computing to embracing private and public infrastructures with gusto. Despite initial concerns over security, the financial services sector is now adopting cloud computing as an integral part of their IT operations. Cloud computing offers businesses an array of choices, including the ability to migrate to the cloud gradually without impacting performance. Its flexible structure also offers ample agility and data storage. Learn more about why cloud computing is growing exponentially across the financial space.
Day 11: TEM & WEM
On the eleventh day of Christmas, Sakon gave to me: An overview of TEM & WEM.
In this explainer video, our friends at Sakon highlight the communications challenges facing the enterprise moving forward. CIOs are tasked with managing current network needs while creating an innovative path into the future — and they must do all of this while ensuring costs remain low and users are happy. In order to move enterprise communications from silos into the light, Sakon's platform can help you understand, manage and evolve your communications ecosystem. Watch now to learn how you can make communications based on fact — not best guesses.
Day 12: SD-WAN
On the twelfth day of Christmas, Gartner gave to me: Everything I need to know about SD-WAN.
Here's something your business absolutely needs to know moving into the new year: If you own a business or manage IT, SD-WAN is absolutely essentially. If your network goes down, your whole business goes with it.
SD-WAN makes it easier to adapt to the changing demands of application delivery and user productivity by decoupling the network and control plane. Two networks are running at all times so that if one falters, your business doesn't. This makes SD-WAN more reliable and gives you more control over data bandwidth priorities. Watch this video to learn more about why SD-WAN is an essential upgrade for your business or read Gartner's report here.